Mentor Program
---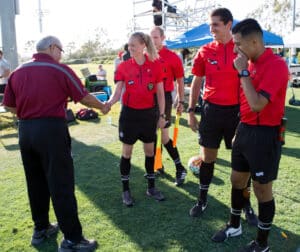 The Eastern Pennsylvania MENTOR PROGRAM  provides opportunities for continuing referee education and experience in addition to certification requirements. Whatever your level, feedback is important.
The goals of the Mentor program are to:
Retain and develop referees
Improve the level of refereeing
Provide advancement opportunities
Having a good mentor can help you become a better referee. We offer informal guidance along with more formal assessments for those looking to upgrade.
If you are interested in participating, either as a mentor or mentee, contact Mike Moran at philapres@verizon.net.
RESULTS:
The mentor team has provided feedback to over 300 referees.
Look for additional Mentor events to come – check back soon!